Construction works September 2020 – January 2021
Port of Melbourne is undertaking three construction projects commencing September 2020. Each project will involve some pile driving activity. Residents and port tenants may experience noise from the piling driving and related activity.  We will work closely with our contractors to minimise these impacts.
Project 1 – Short Road Wharf
*update - piling works now complete.
Port of Melbourne is constructing a new marine maintenance facility at Short Road Wharf, along the Yarra River.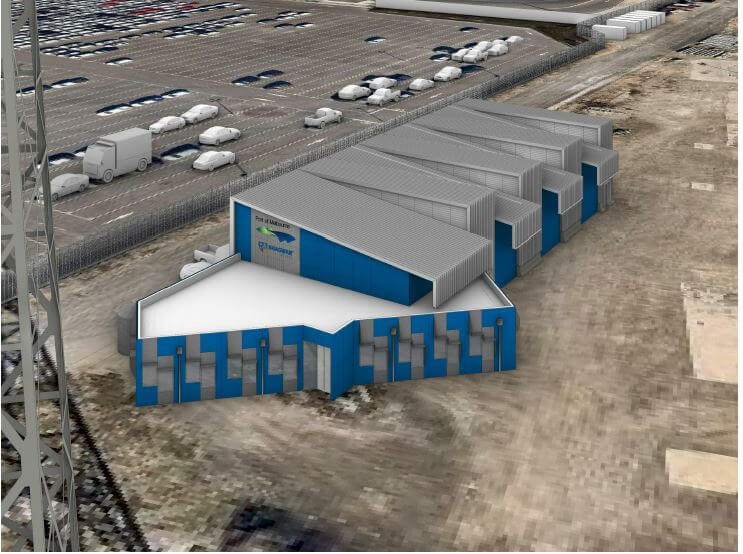 Some pile driving will be required. Pile driving took take place from 10 September to 24 September and was slightly extended due to weather conditions.  The new facility will enable the relocation of the former maintenance facility at Ann St, Williamstown to Short Rd Wharf. The works include:
construction of a structural steel metal clad store/workshop (approx. 500m2);
office building for up to 10 staff and amenity facilities for up to 20 staff;
car parking and open space amenity;
asphalt paving of Short Road Track; and
construction of concrete hardstand area and bitumen pavements.
A key project objective is to incorporate sustainability best practice in design and construction to assist the achievement of Green Star Certification, supporting Port of Melbourne's sustainability goals.
The construction program is currently as follows:
Contractor mobilised to site on 10 September 2020
Construction period is 26 weeks
Pile driving (16 piles) was completed on 24 September
Project 2 – Mooring Dolphin works, Webb Dock
Works to construct a mooring dolphin will be undertaken between December 2020 and February 2021. Mooring dolphins are structures that help secure vessels when berthed. The following piling activity will take place:
A temporary support structure will be set up, including some minor temporary piling works, scheduled from 14 to 16 December 2020.
The main piling work will take place from the 14 January through to 6 February 2021.  Works will be scheduled between 7.00am-5.00pm during the week, and possibly on Saturdays (7am-1pm). More information will be provided closer to the commencement of construction.
Project 3 – Gellibrand Pier works
Pier works are tentatively scheduled at Gellibrand Pier in early 2021. The scope of works includes:
Demolition of three mooring dolphins including extraction or cutting off of the existing piles.
Driving of a total of six steel piles
Installation of two precast concrete dolphin caps and associated furniture including quick release hooks.
Concrete remediation to limited areas on the pier head, fire monitor tower and outer mooring dolphin soffits.
More information on timing and duration of the piling works will be provided once a contractor has been engaged for the works.
There will be some noise or vibration during the day as we undertake these works. We will work closely with our contractors to minimise these impacts. If you have further questions, please contact us at community@portofmelbourne.com or 1300 857 662.