Port of Melbourne is proud to present its first Reconciliation Action Plan (RAP), which outlines the practical actions that the business will take in partnership with local Registered Aboriginal Parties and surrounding indigenous organisations to support reconciliation. The RAP will be delivered over an 18-month period and aims to achieve the following objectives: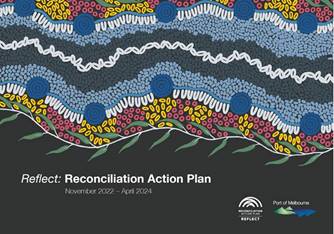 Develop strong relationships with the Registered Aboriginal Parties and Aboriginal and Torres Strait Islander peoples, groups, and organisations within the communities in which our business operates.
Build respect for Aboriginal and Torres Strait Islander peoples and cultures by deepening our own understanding of local cultural heritage, relevant legislation (Aboriginal Cultural Heritage Act 2006), customs, spiritual beliefs and relationships with the land.
Identify opportunities to partner with our Registered Aboriginal Parties and other local businesses and community groups to create opportunities for Aboriginal and Torres Strait
This marks the beginning of Port of Melbourne's formal commitment to its reconciliation journey. We look forward to listening, learning, sharing and working together with Aboriginal and Torres Strait Islander peoples, communities and organisations to deliver this plan. You can access a copy of our RAP here.