Commercial filming
What do Ava Gardner and Robert de Niro have in common?
Apart from their Hollywood star status, both have appeared in feature films shot in and around the Port of Melbourne.
While Port of Melbourne didn't negotiate the Ava Gardner deal, the port has long been of interest to production companies for feature films and locally based television dramas.
Commercial filming requests
This service is handled by Port of Melbourne's Corporate Affairs team, often in conjunction with Film Victoria and port tenants.
Commercial filming applicants need to consider appropriate insurances, traffic management plans and security (as required), as well as the prospective location fee. Port of Melbourne's standard indemnity must be completed, too.
The following are the minimum charges. Please note that the fees may vary if additional security personnel or resources need to be deployed to facilitate your request.
Application fee  $500 plus GST (per application)
Location access fee $3,000 plus GST per 24 hour period  (subject to approval of your application).
Please also allow sufficient processing time for your requests. As a minimum, the following are required:
Applications will need to be reviewed and you will be informed of a decision within 10 business days.
All approved applications will need to be further coordinated for access to the port and this require a further 5 business days.
Applicants will also need to agree to the terms and conditions for access to the port. These conditions are provided in Access Authority Form for your reference
Download Application form (PDF)
View Access Authority Form (PDF)
To discuss your filming request:
Contact our Corporate Relations team:
Tel: +61 1300 857 662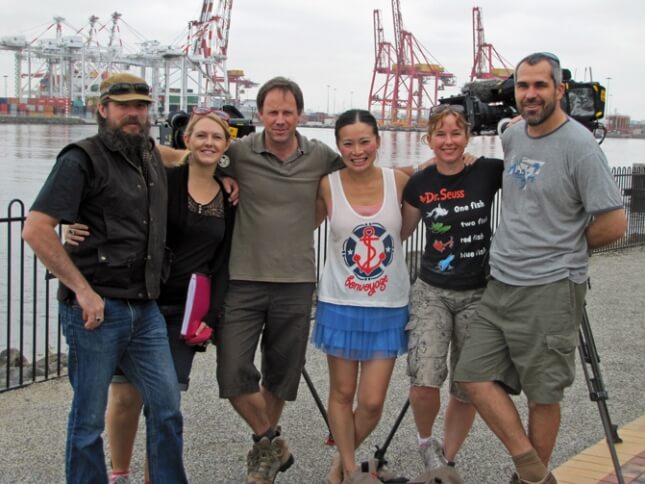 The Poh's Kitchen Adventures team with Poh, centre, filming at Port Ed in 2011.
The Port of Melbourne on film
From period dramas to contemporary car chases, the port has featured in the following films.
On the Beach
Ava Gardner and Gregory Peck starred in the 1959 film On the Beach, the post-apocalyptic drama based on Nevil Shute's novel of the same name which was shot in Melbourne and included parts of the port.
Moby Dick (TV mini-series)
Starring Patrick Stewart (aka Captain Picard) playing Captain Ahab, the sea shots for this 1998 adaptation were filmed largely in Port Phillip Bay off Williamstown, Point Cook and Altona.
The Killer Elite
The all-star cast of the Killer Elite, including Robert de Niro, Jason Statham and Clive Owen, shot parts of this gritty drama around the port, among other Melbourne locations.
Bastard Boys
A locally produced political thriller which captured the drama of the 1998 waterfront dispute, the series screened on the ABC in 2007. The series featured Jack Thompson as a wharfie, Geoff Morrell as Chris Corrigan, Colin Friels as John Coombs and Francis Greenslade as Bill Kelty.
The Pacific
Backed by the production team of Steven Spielberg and Tom Hanks, this 10-part mini-series from the creators of Band of Brothers told the story of US Marines battling the Japanese in WWII. The mini-series was shot in several Melbourne locations, most notably Station Pier where filming took place over three days.