Sustainability at Port of Melbourne
Port of Melbourne's focus on sustainability is core to our purpose and strategy, and critical to our future success. Sustainability underpins the delivery of our strategic goals and is integrated into our corporate strategy as a key business priority.
PoM's Sustainability Strategy establishes a foundation for our sustainability program, articulating what sustainability means in the context of PoM's business and responds to those issues most material to our stakeholders. The strategy guides us in identifying, understanding and responding to social and environmental issues in support of PoM's purpose.
PoM's overarching sustainability goal is to work with our stakeholders to build a sustainable port for the benefit of the Victorian economy and liveability of Melbourne.
This goal is underpinned by three key objectives, supported by four sustainability themes: people, planet, partnerships and prosperity. Our strategy's objectives, themes and sustainability focus areas are shown in the figure below.

Sustainability Strategy
Our strategy is also aligned to those United Nations Sustainability Development Goals most relevant to PoM and our stakeholders, and is supported by objectives, three-year targets and indicators.
A key focus for PoM in delivering the strategy is to embed sustainability into all aspects of our business, including infrastructure operations and maintenance and port development planning and delivery.
PoM reports its sustainability progress annually.  Read our latest Sustainability Report here.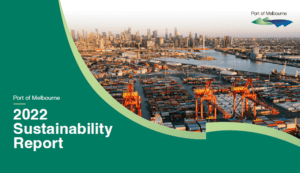 Previous reports can be downloaded below.
Action on climate change
PoM recognises that climate change is a significant global challenge that will have wide-reaching effects on our business, all sectors of the economy and society. We support the Paris Agreement goals and efforts to limit global temperature rise to 1.5 degrees Celsius above pre-industrial levels by the end of this century. We also support the State of Victoria and Australia's transition to net zero emissions.
Our target
PoM has set a target to achieve net zero emissions for Scope 1 and 2 by 2030.
We plan to achieve this by:
Sourcing 100% of the electricity needed for our business operations from renewables; and
Transitioning our corporate vehicle fleet and our marine survey vessel to electric or zero-emissions fuel technologies.
PoM is committed to managing the risks and opportunities arising from climate change to ensure the long-term sustainability of the port and the ongoing resilience of our assets.
We align our approach to climate management and reporting to the recommendations of the Taskforce on Climate-related Financial Disclosures (TCFD) and report our progress in our annual Sustainability Report.
PoM's Climate Change Statement outlines our approach to climate management.
Sustainability recognition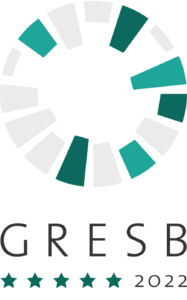 In 2022, PoM's ongoing sustainability efforts were recognised by the Global Real Estate Sustainability Benchmark (GRESB). PoM achieved a 5 Star rating in the GRESB Infrastructure Asset Assessment and was recognised as the most improved in the ports sector.
More information
Media releases:
Port of Melbourne sets sights on net zero target
Port of Melbourne joins C40 Green Ports Forum
Green Methanol MoU signed with Melbourne port
Port of Melbourne achieves 5 Star Sustainability Rating
Contact us
For more information email  sustainability@portofmelbourne.com or call 1300 857 662.