2023 Industry Engagement
The purpose of the 2023 Industry Engagement program is to effectively engage with stakeholders on issues of importance to them and to contribute to the 2023-2024 Tariff Compliance Statement and wider activities at the Port of Melbourne.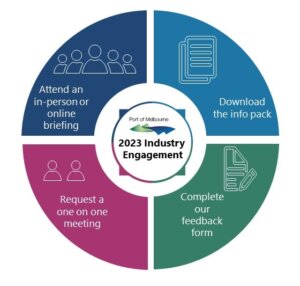 In 2023, the Industry Engagement program included the opportunity for stakeholders to attend an in-person briefing or an online briefing. The sessions have now concluded and further details on next steps can be found below.
Watch our March 2023 Industry Briefing
In late 2022 we engaged with stakeholders to help shape our engagement program for 2023. Based on feedback from industry, this year's Industry Engagement scope was:
Tariffs and the regulatory period (PoM will make a decision on the length of the regulatory period following this engagement);
Rail project update;
An overview of Pom's sustainability activities and goals;
PoM's role in the industry; and
PoM's approach to engagement.
We held an in-person briefing on Wednesday 1 March, and an online briefing on Thursday 2 March. Click here to watch a recording of the online briefing or view below:
Download our Information Pack and supporting materials
The Information Pack includes detailed information about the engagement topics so that you can be informed about the issues at play and provide feedback to influence the positions we adopt in our 2023-24 Tariff Compliance Statement.
Click here to download your copy of the Information Pack
The engagement materials also include a technical report by independent experts, Incenta Economic Consulting, on the economic principles behind the choice of regulatory period length, for those who want more detail on concepts referred to in our proposal for a five-year regulatory period, as described in the Information Pack.
Click here to download a copy of Incenta's report
Complete the Feedback Form to share your views
We encourage all stakeholders to complete an online Feedback Form to share their views on the topics covered in the briefings and Information Pack.
This Feedback Form is the starting point of participation in the 2023 Industry Engagement. It could take between 10 and 60 minutes to complete, depending on how much you have to say.
Click here to complete the Feedback Form
If you would prefer, our engagement consultants, Insync, will record your views in a one-on-one interview. Contact details for Insync are provided on the home page of the Feedback Form.​
The feedback form will remain open until 31 March 2023.
PoM's Tariff Compliance Statement (released 31 May) will include a full summary of the feedback we received and how the feedback informed our decision making.
For more information
Contact our Regulatory Team:
E: michael.black@portofmelbourne.com
T: 0438 384 274