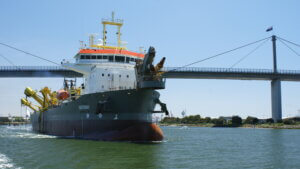 Dredging Program
Port of Melbourne has ongoing dredging obligations to ensure the safe passage of ships visiting the port.
Dredging has been routinely conducted in Port Phillip and the port area for over 100 years to maintain the declared channel depths and allow the safe navigation of vessels and the efficient transport of cargo.
Below is information on our most recent dredging programs.
2023 Maintenance Dredging Program
Maintenance dredging was completed in July 2023 across the port precinct and South Channel in Port Phillip Bay. These works were carried out to remove a build-up of sediment and to ensure Port of Melbourne's berths and channels are maintained for shipping.
The program was completed using the Trailing Suction Hopper Dredger (TSHD) Gateway which has a capacity approximately four times the size of typical dredgers used for maintenance campaigns.  As a result, the 2023 dredging campaign ran for seven weeks compared to approximately 20 weeks for a typical program of the same scope.
To download a fact sheet click here.
Sweeping of the Yarra River to ensure safe access for vessels
On 25 August 2023 a Victorian Notice to Mariners (NtM) was issued by Ports Victoria advising of a reduction in maintained depth for the Yarra River Channel in vicinity of the services pipelines. The NtM is available on the .
Localised sweeping was completed on 19 September 2023. Sweeping is a low impact dredging activity that addresses a reduction in depth above the Yarra River services crossing, just south of the West Gate Bridge, by shifting material into deeper adjacent areas of the river.
The Notice to Mariners for the works can be found here.
To download the project's Environmental Management Plan (EMP) Click here.
For more information call 1300 857 662 or email port.dredge@portofmelbourne.com