Ship spotting
Many different types of ship can be seen on Port Phillip Bay and each is designed to carry specific cargo.

There are around 3200 commercial ship visits to the Port of Melbourne each year.
There are several vantage points to watch the ships come to and from the port. Popular spotting sites include (see red markers on map):
Webb Dock trail viewing platform
Walking trail along the Yarra River near Newport Power Station
Williamstown foreshore
Scheduled arrivals and departures can be found at the VicPorts website. There are also various vessel finder apps which track global shipping movements, available from the App Store/ Google Play.
Vessel Types
The following list will help identify the type of ship and the cargo it might be carrying. See the port map to find the location of each of the berths listed below.
Container ship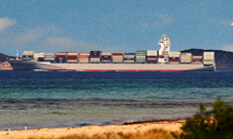 Container ships carry their cargo in twenty or forty-foot containers. These ships carry everyday items including clothes, food, white goods and furniture.
Where do they berth?
Swanson Dock East
Swanson Dock West
---
Roll on/Roll off (Ro/Ro) ship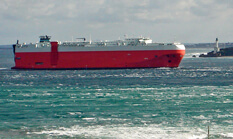 Roll on/Roll off (Ro/Ro) ships carry wheeled cargoes such as cars, trucks, mining machinery, farm machinery, Winnebagos and rail rolling stock. Their built-in ramps lower onto the wharf to let the vehicles 'roll on' and 'roll off' the ship on their own wheels.
Where do they berth?
[divider style="blank"][/divider]
Bulk carrier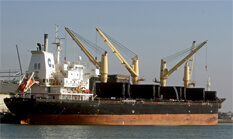 Bulk carriers transport non-containerised cargoes such as grain, cement, sugar, fertiliser and gypsum in large compartments known as the holds of the ship.
Where do they berth?
Appleton Dock
South Wharf
Yarraville berths
---
Bass Strait ship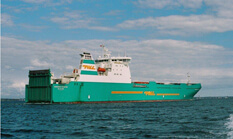 Bass Strait ships are Ro/Ros and sail to and from Tasmania with a variety of freight including containerised and non-containerised cargoes. All cargoes board the ship on trailers. The trailers carry the cargo and drive on and off the ship via the Ro/Ro ramps.
Where do they berth?
---
Tugboat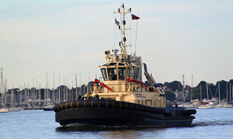 Tugboats help manoeuvre ships by pushing and towing them. Tugs help ships in difficult conditions, such as on a windy day or in a crowded harbour or narrow river.
Where do they berth?
---
Dredging vessel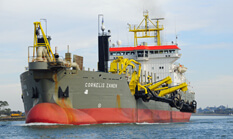 This is the type of vessel that is generally used for periodic maintenance dredging to ensure the declared depths of the approaches to the port and berths are maintained.