Port Capacity Enhancement Program
Project overview
As part of the Port of Melbourne's stewardship obligations, it is required to ensure that port capacity can meet the future demands of Victoria's growing economy. The Port of Melbourne is engaging about the next stage of that port capacity, called the Port Capacity Enhancement Program (PCEP).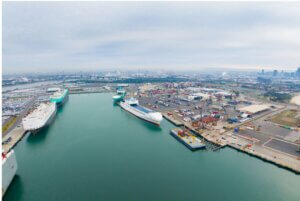 This program was outlined in the Port of Melbourne's 2050 Port Development Strategy (PDS) and involves developing a Webb Dock North container terminal and securing the long-term future for the Tasmanian trades.
Once delivered the PCEP will ensure the Port of Melbourne (PoM) continues to play a significant role in driving forward the Victorian economy.
Engagement
PoM is committed to stakeholder engagement that is inclusive, timely, genuine and transparent. Our approach is guided by our commitment to comply with our regulatory obligations, and our intent to listen to and be responsive to our stakeholders. We will always seek opportunities to strengthen our engagement over time in line with the Pricing Order Engagement Protocols.
We recognise that engaging stakeholders in our planning process for PCEP leads to informed decision-making that balances the needs and interests of relevant parties.
Stage One – Technical reports
PCEP stakeholder engagement commenced in September 2022 on the key drivers of the project including:
When finalised, the three reports will be used to inform the Cost Benefit Analysis (CBA) which will be the subject of future engagement activities.
In February 2023, these reports were updated following initial feedback, and engagement on those updated reports remains open at this time.
At the conclusion of Stage 1 engagement on technical reports, a stakeholder engagement report will be made available on the Port of Melbourne website.
Timelines for future engagement on the Port Capacity Enhancement Program will be updated and communicated on this website following the conclusion of Stage 1 engagement.
Stage Two – Cost Benefit Analysis
Stage 2 engagement will focus on the Cost Benefit Analysis. Further information about engagement will be provided following the completion of Stage 1.