Emergency contacts
If you see an emergency in the port:
Phone Emergency Services (Police, Fire, Ambulance) – 000
Then, phone Melbourne VTS Port Operations Control (POCC) – 9644 9777
When reporting an incident to 000, look for the nearest Emergency Marker and quote the locality code (e.g. POM 301, see right) to help establish your location.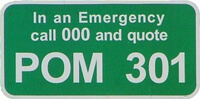 Whole of port 24/7 hour emergency support contact numbers:
Port of Melbourne Emergency Contact
9689 0224
Melbourne VTS (Non-emergency)
9644 9700
Harbour Master
(Emergency incidents)
9644 9777
(via Melbourne VTS)
Port of Melbourne Duty Port Authorised Officer
(All Port of Melbourne Incidents)
9683 1594
Port of Melbourne Duty Security Officer
9612 3646
Port of Melbourne Assets Operations
(Water, power, infrastructure faults)
9612 3619
SECURITY Monitoring Control Centre
9681 8044
Community/General Enquiries
(Noise complaints can be lodged via the Incident Report Form below)
1300 857 662
Emergency Services – Operational line to Melbourne VTS
9644 9778
VPCM Duty Officer
(All VPCM incidents)
9644 9745
Report a non-emergency incident or hazard
To report an Incident (e.g. injury, accident or near miss, minor pollution, noise or other environmental issue)
Go to Port of Melbourne's Incident Report Form
To report a Hazard (e.g. damage to property/equipment fault, an uneven footpath or trip hazard, a hole in a fence)
Go to Port of Melbourne's Hazard Report Form
Emergency Markers with locality codes (see above) have been installed in the port in conjunction with the Emergency Service Telecommunications Authority.